Edna Kingsley - October 11, 2018
October 11, 2018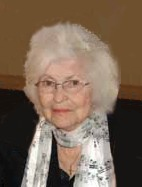 The DCAT Chorus was saddened to hear of the passing of Edna Kingsley on Thursday, October 11, 2018. That same morning, Edna sent her best wishes to all of us for the Love of Music Show on October 14th and expressed her desire to be there on stage with the Chorus.
Edna was a member of DCAT for over twenty years and rarely missed a rehearsal. She served on the DCAT Executive for many years as Social Director, and was also a key member of the fundraising team. The annual trips to G.A.S. reunions were always special times for Edna. Whether on the bus or at the banquets, Edna kept us organized and made sure that no one got left behind, got the wrong meal or missed a rehearsal. She actively took part in every sing-a-long and all of the 'Talent' shows at G.A.S., even the tap dancing routine. She was honoured for her energies and efforts by being named a member of the DCAT Hall of Fame in 2014.
Edna was a very active woman. Her wonderful soprano voice was for many years part of the Toronto Mendelssohn Choir. Every year she and Linda Carscadden were eager participants in the "Sing along Messiah" at Old Massey Hall. She had a keen interest in Branch 606 Legion in Pickering and enjoyed many friendships there. She easily made friends wherever she went and was loved and appreciated by all who knew her.
We will miss seeing her and we will miss hearing her.
"Sing, then. Sing, indeed, with shoulders back, and head up so that song might go to the roof and beyond to the sky." – Richard Llewellyn
Please note: Information regarding a Celebration of Life for Edna will be posted when available.