Comments
On this page, we would like to collect any comments that members, audiences and readers of this website may have about the DCAT experience. Please send us your remarks by filling out our contact form our contact form .
---
(This space is waiting for YOU!)
---
Comments from Program Administrators regarding DCAT Chorus performances at their facilities:
Your performance was upbeat, lively, and well enjoyed by all who attended.
It was very rewarding to watch residents tap their toes, sing along, or even just smiling as they listened.
This show was a huge success! The Residents commented that they really enjoyed it and were happy to have had the opportunity to hear this group perform.
Many of the nursing staff also received positive feedback afterwards from the Residents as they were returning to their floors.
It was an honour to have the DCAT chorus perform for us and we are truly grateful they chose our Home to perform in.
Everyone loved your performance and hope to see you back soon! Our Wellness Centre was bursting with music and energy as we had over 60 residents and family members in attendance.
They were spectacular! They were amazing! Can we have them back; it was a breath of fresh air!
The crowd was so pleased at how professional, charming and lively the group was during the performance. It was truly beautiful and unique.
I've seen my residents in a lot of musical entertainment settings, but this is the first time that I've seen them visibly moved by a performance. Even my residents with cognitive impairment shed tears, with the beautiful stroll you took them on, down Memory Lane. Thank you again and we welcome you back with open arms anytime!
Your choice of songs had many tapping their foot and/or nodding their head - a very good sign.
---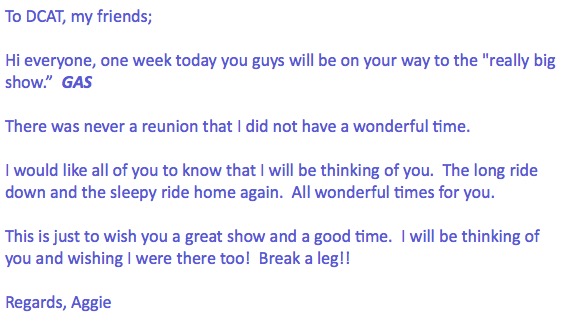 ---
Comment from a former member after seeing a video of the DCAT performance at GAS 2016:
I think DCAT put on a wonderful show. You should all be very proud of yourselves. Congratulations Agnes!
---
Hey DCAT,

Looking forward to your video on you tube!

Have fun.

Cheers Wendy
---
Message from former DCAT members:
Hi friends, just wanted to wish you a very successful GAS this year. I will be thinking of you and also of all the fun I had at the past shows. It is a fabulous time for DCAT. Sing loud, sing well.

Love to all of you. Agnes Miller PS: Take care of Joan for me!
Also:
Good wishes from Rita Dickinson for our GAS weekend.
---
And from a staff member at another Seniors' Residence:
Dear Mr. John Fox and the DCAT Chorus Group.

Greetings!

On behalf of all the residents at Barton Retirement Residence we would like to thank you and your group the DCAT Chorus for the magical night. I wanted you to know that you received nothing but the highest compliments from all 55 residents plus their guests that attended your performance on Friday, October 30th, 2015. The crowd was so pleased at how professional, charming and lively the group were during your performance. It was truly beautiful and unique. We have the full admiration of your talented group.

Best regards!
---
A member of the audience at a Senior's Home wrote:
Dear chorus members,

I was fortunate enough to catch your performance last evening at Alexander Muir Retirement Residence in Newmarket. I loved it! Not only was it highly entertaining but I had an opportunity to chat with a few members of your team while waiting for the elevator to bring my friend back upstairs. I just started volunteering at the residence and what a highlight to experience your performance and talent it was for me and my young daughter. I was moved.

I hope to have another opportunity in the future to see you again. So thrilling! Keep on doing what you do and sharing it with others. All the best!
---
From a member of the audience at Scarborough:
I particularly appreciated the musical dynamics, which is what distinguishes a professional choir from an amateur group. It impressed me because I have a problem teaching dynamics to my (instrumental) group. It isn't an easy concept to teach, but this choir had it!
---
A former member wrote about our show at Scarborough Civic Centre 2015:
Great show yesterday. Loved it all. I think you guys just get better and better.

Agnes
---
By Ken Burbulak on the GAS Facebook:

---
The Entertainers!

'Can You Hear The People Sing …..'

Yes, we heard the people sing! - it was a remarkable performance.

Your interpretation of the music and words, the theatrics, enthusiasm, costumes and props all congealed and made something truly special. DCAT - you were witness to the reaction and standing ovations of the audience. All the many hours and hard work came to fruition in that performance.

Being aware of your history made it a 'no brainer' - we had to be there.

We are proud to be associated with DCAT.

Well done and Thank You

and to Wyatt -

Your vision and dream became a reality. You are a gifted artist. May it always be part of your life. The accolades you received were richly deserved. It is a privilege to know you.

annie in the tundra and joe the jester and drum corps guy
---
Dear DCAT Chorus,

Have a blast at GAS and break a leg!

Thinking of you,

Shiona​ & Ian
---
Hi DCAT

In show business it's good luck to say "break a leg".

So take it as wishing everyone really good luck on stage and off!

Wendy A
---
Have a fantastic weekend at G.A.S. - stay safe, I know the performance will be great.

Rita D
---
To everyone going to GAS, I send my best wishes for a great performance! Undertaking the music of Les Mis plus choreography, is a huge and difficult task, and DCAT has done it! I think our group has taken things to a different level and I am so proud to be a part of all of it.

I hope to see you all later in May. Soooo, KNOCK THEIR SOCKS OFF at GAS!

Sincerely, Sandy H.
---
I want to wish DCAT a successful GAS. I will be thinking of you. I feel for Edna. I know she will be sad at missing it. However, she sounds good and that is what is important.

Go DCAT Go!

Agnes
---
Snap'd Beaches/Danforth visited us, took some great pictures and gave us a lovely write-up!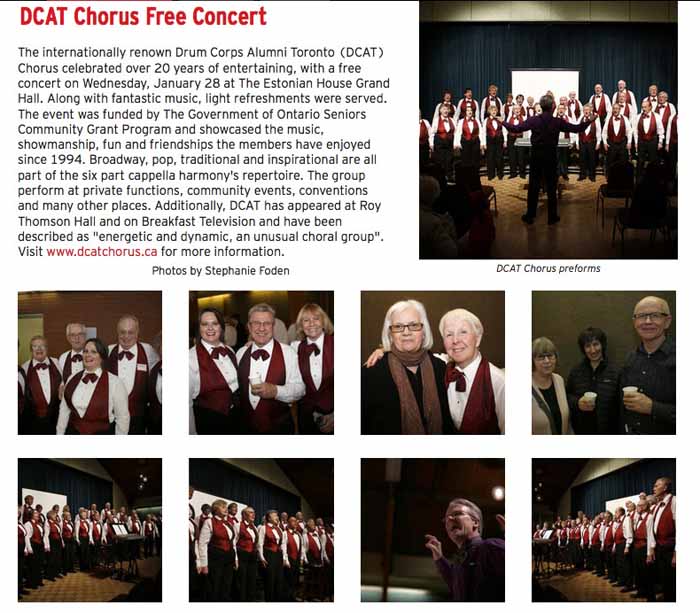 ---
Jan. 29, 2015:
Great Show!

Many thanks to all of you for putting on such a great show last night. And… thanks for the invite to join you for 'Rhonda'. I loved being back!

Agnes
---
We have been receiving congratulatory messages from our friends in G.A.S.:
As your friends since 1994, we salute DCAT on reaching the milestone of your 20th Anniversary.

Great Music -
Great Memories -
Great Friends -
Simply "Purrfect"


The Archer-Epler Musketeers Upper Darby, Pennsylvania
On behalf of the Audubon Bon Bons, I would like to congratulate our friends in the DCAT Chorus on your 20th anniversary. This is also our 20th anniversary year and from the first GAS Reunion we attended, a bond was formed. The friendship we share with you is very precious to all of us. We all look forward to another 20 years of spending time together even if it is only once a year. I'm sure Ted and Rip are smiling from above.

Carol Pennisi Terreri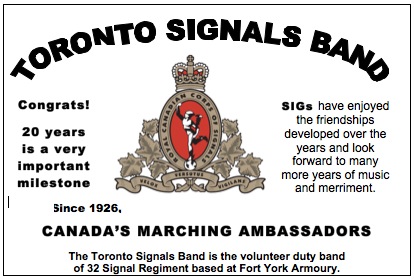 ---
Our members were asked to describe our chorus with words beginning with D.C.A.T.:
Dedicated
Charismatic
Artistic
Triumphant

~ Lorraine Wharton (Tenor)
Distinctive
Cooperative
Assuring
Trusting


~ Ana Amez (Soprano)
D>ependable
Crowd-pleasing
Artistic
Troubadours


~ Rhonda Marks-Would (Tenor)
Dedicated
Competitive
Aspiring
Trainable


~ Edna Kingsley (Soprano)
Dynamic
Capable
Amiable
Tonal


~ Joe Lasko (Tenor)
And we sure are all that and more!
---
After our performance at the Optimist Alumni "Legends of Drum Corps IV" in Oshawa Aug. 16, 2014, we received this letter:
Members and Staff of DCAT,

On behalf of the Optimists Alumni Drum and Bugle Corps we would like to take this opportunity to thank you so much for being part of our show once again this year! Thank you so much for returning this year and doing such a great performance, you are definitely a "crowd pleaser".

This summer event provides a chance for corps/band/choir members to mingle, socialize and catch up as the season comes to a close, plus we all share one common bond "music". It is a great time to reminisce and to talk about what we all enjoy, "drum corps".

We are pleased with the show again this year and of course there is talk of Legends VII. Thank you again to all of your members and staff; we wish you the best of luck with your 2014 season.

In Drum Corps Spirit,

Ric Brown
Business Manager
The Optimists Alumni Drum & Bugle Corps
DCAT at the Opti show: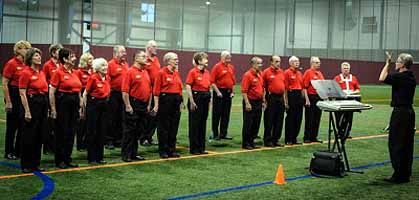 ---
After our performance at GAS 2014, there were several comments on the GAS Facebook page, e.g. "I'm convinced that Wyatt can get music out of a rock!" "Great job by the DCAT chorus on O Canada." "WOW!!! The chorus sounds terrific."
Thank you! And we enjoyed all the other performances at GAS, too.
---
One of our new members writes:
I have always wanted to sing in a group. When I saw the DCAT Chorus performing, I was so impressed with the richness of their sound and the amount of enjoyment that everyone was having, that I had to find out more about them. When I was told that they were just starting to practice some of my favourite music and that I could join without having to audition, I could not resist. I have found the Music Director, Wyatt Gill, to be very enthusiastic and knowledgeable, and the members of the group to be warm and welcoming.
---